Securing the approvals of government authorities is required for individuals and organizations living and operating in the UAE. Payroll Middle East has a team of established PROs dedicated in addressing the needs of clients as quickly as possible. We regularly work with clients to help them deal with local authorities, including:
Ministry of Foreign
Our PRO services Dubai include professional attestation, document clearance, and authentication at the UAE Ministry of Foreign Affairs (MOFA) for documents, certifications, and permits such as:
Labor permit (individual or group) – necessary for businesses to recruit skilled workers from overseas with the approval from the Ministry of Labor
Entry permit – for a foreign national to enter the country for visit or other purposes
Residence permit – for an individual employed, self-employed, or residing with a sponsor in UAE
Labor supply certificate – necessary for a company planning to bring unskilled laborers to the country from overseas
Temporary work permit – to work for an employer other than the sponsor/current employer of the employee for a maximum of six (6) months
Work permit substitution – for employee replacement
Work permit amendment – in case of alterations to aspects of a work permit within its validity period
Marriage certificate
Birth certificate
Educational degrees/certificate
Diploma certificate
Transfer certificate
Police character certificate
Experience certificate
Affidavits
Department of Economic Development
The Department of Economic Development (DED) issues licenses for businesses across the region. Payroll Middle East has decades of experience providing PRO services in UAE, allowing clients to hasten the process and increase the likelihood of license issuance for business setup in Dubai or anywhere in the UAE. As we offer the best PRO services in Dubai, clients receive assistance and representation with the DED for the following, but not limited to:
Business Registration

Civil works company;
Sole proprietorship;
Public and private shareholding companies;
Branches of foreign companies;
Branches of local companies;
Government representative offices

Approval for Initial Trade Activity
License Amendment

Update of business activities (change or add);
Replacement or revision of trade name;
Update on business location;
Change of local agent details;
Change or addition of management details;
Sale of business;
Liquidation for merger;
Capital amendment;
Removal or addition of partner details
License Renewal
License Cancellation
Trade Name Reservation
Ministry of Human Resources and Emiratisation (MOHRE)
Being a PRO services company in Dubai, Payroll Middle East has highly skilled Public Relation Officers who can expedite clearance of essential documents at the MOHRE. Our long-standing relationships with the government authority allow us to provide PRO visa services Dubai and facilitate the clearance of even the most complex and difficult labor cases. Our PRO services Abu Dhabi and for the rest of UAE include:
Processing of Labour Card for Employees – a labour card is proof of employment and is imperative for every expatriate employed in UAE
Amendments in Labour Cards – for changing details in existing labour cards
Renewal of Labour Cards
Cancellation of Labour Cards
Replacement of Labour Cards
Labour Employment Contract Processing
Employment Visa Cancellation
Employment Visa Processing;
Transit Visa Processing
Maid Visa Processing
Residence Visa Processing
Our PRO services in UAE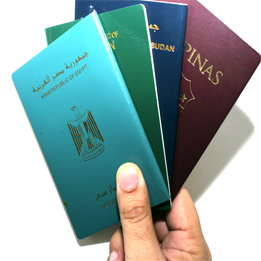 As a firm that offers the best PRO services in Abu Dhabi and corporate PRO services in Dubai, we help and guide clients for the clearance of documents for visas, including:
Visit visa – intended for individuals visiting UAE for business or leisure for more than two (2) weeks and less than sixty (60) days
14-day service visa – for individuals visiting UAE for less than two weeks
Multiple entry visa – intended for frequent visitors with six (6) months validity (non-renewable)
Extension of visit visa – allows visit visa holders to extend stay for thirty (30) days
Visit visa conversion to employment visa – intended for individuals who will reside in the country for employment
…
Residence visa – for residence in UAE indefinitely for employment or to reside with relatives (sponsor)
Investor visa – for foreign nationals in partnership with local residents
At Payroll Middle East, we offer a complete spectrum of support with our corporate PRO services Dubai and professional PRO services Dubai for dealing with government ministries and key stakeholders to secure the necessary approvals individuals and businesses need. Our clients receive services with the highest standards and a hassle-free processing of required legal documentation for operating and living in the country. For more information regarding our PRO services Dubai, contact us to schedule a free initial consultation with our experts.
Common Questions of Our Clients
What will a PRO services company in Dubai need for visit visa processing in UAE?
The general requirements for PRO services for family visa Dubai include passport size picture, passport copy, and a few more personal details. We suggest you call us for a detailed list of visit visa processing requirements.
How many visas can the firm process for my company?
At Payroll Middle East, there is no limit to the number of visas our experts can help process. To get a quote, talk to our experts today!
How long is a residence visa valid?
A residence visa is currently valid for three (3) years and it can be renewed following expiry.
One of the best PRO companies in Dubai, UAE can help you in: